Real Madrid beat Red Star 75-60 in basketball Euroleague
2019-11-08 07:22:45 GMT
2019-11-08 15:22:45(Beijing Time)
Xinhua English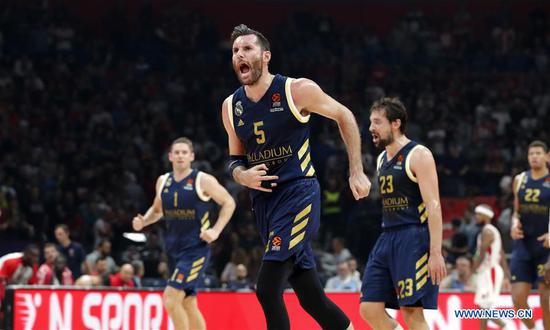 Real Madrid's Rudy Fernandez (2nd L) celebrates during the Euroleague basketball regular season match between Crvena Zvezda and Real Madrid in Belgrade, Serbia on Nov. 7, 2019. (Xinhua/Predrag Milosavljevic)
BELGRADE, Nov. 7 (Xinhua) -- Real Madrid defeated Serbian Crvena Zvezda (Red Star) 75-60 at the Belgrade Arena on Thursday in the round 7 of the regular basketball Euroleague season.
Although the guest team started to build a lead aggressively, Crvena Zvezda answered with a 7-0 run to keep up in front of some 17,000 fans.
Real Madrid managed to increase the lead in the second quarter with precise-shooting, but Crvena Zvezda would always manage to come back, thanks to three-pointers of Billy Baron.
However, Crvena Zvezda failed to score any points in the beginning of the fourth quarter, while the guest team marked four three pointers.
Sergio Llull scored 16 points for Real Madrid and added 5 assists, followed by Ruby Fernandez with 12 points and Walter Tavares with 11 points.
Crvena Zvezda's Billy Baron scored 17 points, along with 4 assists, and Lorenzo Brown scored 14.
The Spanish league title holder remains in the middle of rankings with 4 wins and 3 losses, while Crvena Zvezda is sliding towards the bottom with 2 wins and 5 losses.
Real Madrid will play the next game at home against Barcelona, while Crvena Zvezda will welcome Asvel in Belgrade.