U.S.-born panda Bei Bei arrives in China
2019-11-22 02:17:21 GMT
2019-11-22 10:17:21(Beijing Time)
Xinhua English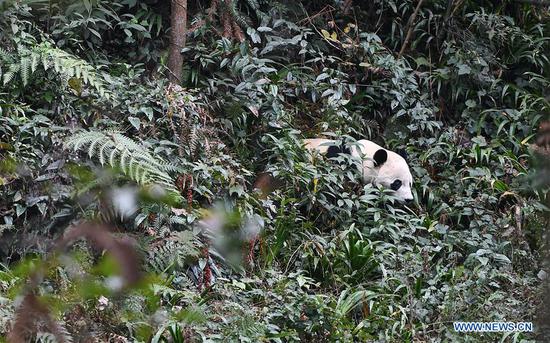 U.S.-born male giant panda Bei Bei is seen after his return from the United States at the Bifengxia Panda Base of the China Conservation and Research Center for the Giant Panda in Ya'an, southwest China's Sichuan Province, Nov. 21, 2019. Giant panda Bei Bei, who was born and raised at the Smithsonian's National Zoo in Washington D.C. for more than four years, departed for the next chapter of his life in China on Tuesday. Bei Bei will officially meet the public in China after one month of quarantine. (Xinhua/Xue Yubin)
CHENGDU, Nov. 21 (Xinhua) -- American-born panda Bei Bei finally settled down in the Bifengxia base in southwest China's Sichuan Province early Thursday morning.
After a 16-hour trip, a charter flight carrying Bei Bei landed in Chengdu, capital of Sichuan, on Wednesday afternoon. Then the male panda was transported by a vehicle to the Bifengxia base of the China Conservation and Research Center for the Giant Panda.
Perhaps feeling exhausted after the long journey or not yet adapted to his new surroundings, Bei Bei was hesitant to walk out of the transport cage at first. With a little encouragement from his keepers, however, he soon emerged and took in his new home.
On Thursday, a welcome ceremony was held at the Bifengxia base.
Bei Bei is not familiar with his Chinese keeper's voice and does not react when the keeper calls out his name, yet he has quickly taken a liking to the local bamboo. According to his keeper, Bei Bei ate around 4 kg of food on Wednesday night.
According to a collaboration agreement between China and the United States, panda cubs born in the United States to parents on loan from China must be returned to China when they are four years old.
  U.S.-born male giant panda Bei Bei is seen after his return from the United States at the Bifengxia Panda Base of the China Conservation and Research Center for the Giant Panda in Ya'an, southwest China's Sichuan Province, Nov. 21, 2019. Giant panda Bei Bei, who was born and raised at the Smithsonian's National Zoo in Washington D.C. for more than four years, departed for the next chapter of his life in China on Tuesday. Bei Bei will officially meet the public in China after one month of quarantine. (Xinhua/Xue Yubin)
Bei Bei turned four years old on Aug. 22. His father Tian Tian and mother Mei Xiang remain at the Smithsonian's National Zoo in Washington D.C.
Bei Bei was accompanied on his homebound journey by the Smithsonian's assistant curator of giant pandas Laurie Thompson and chief veterinarian at the zoo Don Neiffer.
Thompson will stay with Bei Bei for several days in the Bifengxia base, helping him adapt to his new home.
The public will be able to see Bei Bei after he stays in quarantine for a month.