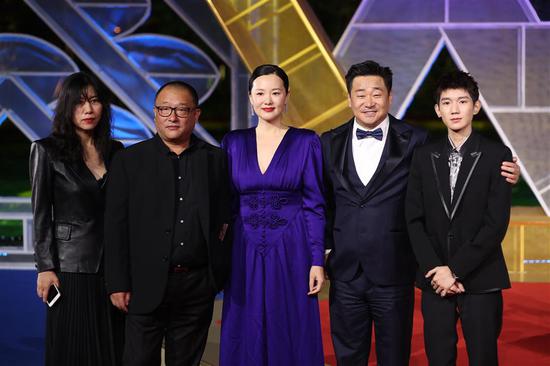 The cast of "So Long, My Son" on the red carpet at the 32nd Golden Rooster Awards, November 23, 2019.
A big night for Chinese filmmakers, China's Golden Rooster Awards returned to its roots on Saturday night at the Strait Grand Theater in Xiamen, southeast China's Fujian Province.
Chinese family saga "So Long, My Son," starring Wang Jingchun and Yong Mei as a couple who loses their only child, ended the night with the most awards, taking home the award for Best Actor, Best Actress and Best Screenplay.
Sci-fi epic "The Wandering Earth" also triumphed at the event, scooping up the Best Picture and Best Sound awards. Directed by up-and-coming director Frant Guo, the film won over filmgoers with its intricate visuals and neat special effects.
Hailed as the prelude to a new era for Chinese sci-fi movies, "The Wandering Earth" grossed nearly 693 million U.S. dollars in the domestic market, becoming the third-highest-grossing film of all time.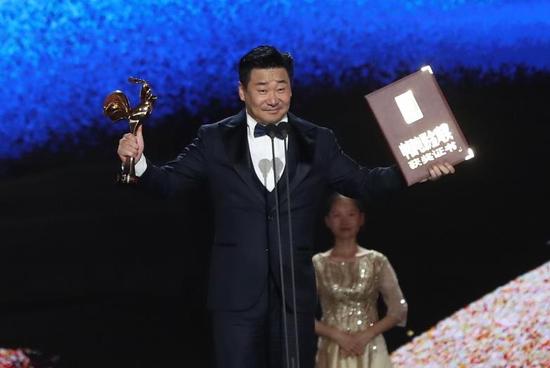 Wang Jingchun
In its 32nd edition, the prestigious awards will be held annually from this year onward instead of every two years. The coastal city of Xiamen would be its "permanent home," awards organizers said.
Director of the generation-spanning drama "So Long, My Son" Wang Xiaoshuai swept the top acting prizes at this year's Berlinale in February with its two lead actors pocketing the Silver Bears for Best Actor and Best Actress respectively.
Actors Wang Jingchun and Yong Mei won critical acclaim from both the film industry and academia for their excellent performances in the three-hour-plus film, which traces the lives of two ordinary Chinese families over three decades of social, economic and human upheaval in China, making a deep bow to the human spirit and highlighting the inherent goodness of everyday life.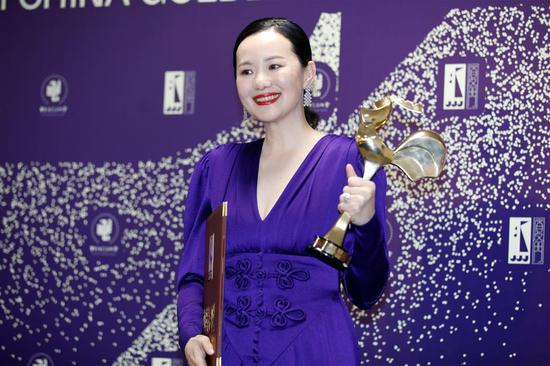 Yong Mei
"[I] never expected that our [story] in Berlin would happen again!" Wang said, laughing as he thanked his "category brothers," which included award-winning actors Xu Zheng and Duan Yihong.
"As a filmmaker, I feel so honored and proud to be a part of the best era of Chinese films. I have been in this career for more than two decades," said the "excited" actor. "May Chinese films always shine in the sun; may all emotions and loves last forever. Long live Chinese cinema!"
Yong claimed the Golden Rooster Award for the best actress for her role as a devastated mother and a fragile wife.
She choked up while delivering her acceptance speech, saying that "luck" might be the only reason she could find to explain why she had a chance to shoot such a good film and win such an honor at 49.
"I'd been questioning why I became an actor and whether I should continue to be an actor until one day I realized why I persisted. It is because of the film. I love film. I am so happy that I have become a filmmaker," said the teary-eyed actress.
Veteran Hong Kong director Dante Lam pocketed the Best Director for his 2018 film "Operation Red Sea," the fifth-highest-grossing film in Chinese history.
The 54-year-old director, a major figure in Chinese action cinema, received the award from Tsui Hark, who is also from China's Hong Kong Special Administrative Region and an influential filmmaker in Chinese martial arts cinema.
"Every filmmaker makes films with courage. And I want to say thanks to all of my actors," said Lam. "Many call me a devil director; thank you for your willingness to work together with a devil. I hope there will be more willing to work with the devil."
The festival also shone a light on young director Wen Muye debut film. Wen took home the Best Directorial Debut award for his widely acclaimed comedy "Dying to Survive."
The film has become a box office hit, raking in about 450 million U.S. dollars and sparking public debate about high medical costs.
The Best Supporting Actor award went to Wang Zhifei, who portrayed legendary Chinese general Zhu De (1886-1976) in the historical film "The Bugle from Gutian."
Seasoned actress Wu Yufang won the Best Supporting Actress award for her excellent performance in the film "Send Me to the Clouds," which took a closer look at the social pressures women face in China.
Other winners include award-winning director Chen Kaige's mystery fantasy "Legend of the Demon Cat," which bagged Best Cinematography and Best Art Direction awards in the technical categories.