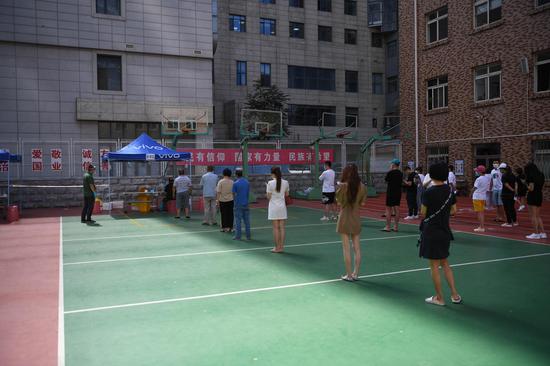 People line up for nucleic acid tests of COVID-19 at a test site in Dalian, northeast China's Liaoning Province, July 27, 2020. (Xinhua/Long Lei)
DALIAN, July 29 (Xinhua) -- The northeastern Chinese city of Dalian, which used to be a summer resort full of tourists, became a quiet place these days after a 58-year-old man working with a local seafood company tested positive for COVID-19 one week ago.
The city in Liaoning Province had reported 52 confirmed locally transmitted cases as of Tuesday, most of whom were either employees of Dalian Kaiyang World Seafood Co., Ltd. or their family members, according to the provincial health commission.
So far, cases related to Dalian have been found in other cities of Liaoning, provinces of Heilongjiang, Jilin and Fujian, as well as in Beijing.
Dalian has been making all-out efforts to tackle the resurgence of COVID-19 and stop the spread of the coronavirus since July 22.
MILLIONS OF PEOPLE TESTED
The city has been swift in taking action. The seafood company was temporarily shut down, and its environs were disinfected and all of its 344 employees were quarantined. Samples were collected from the company's facilities and surrounding areas to test for the virus.
Epidemiological investigations into close contacts of the confirmed cases were launched.
In the meantime, Dalian has been disinfecting all buses and trains on a daily basis, said Wang Shaocheng, director of the city's bureau of transport.
A citywide testing campaign is underway. Residents living in the old and populous communities, as well as communities where cases of COVID-19 were found were organized to take the tests first, with all expenses borne by the government.
"A total of 17,595 medics have been mobilized to conduct nucleic acid tests at 2,698 testing sites across the city, with nearly 3.53 million samples collected by midnight Tuesday," said Zhao Lian, deputy director of the municipal health commission.
The provincial government has recruited 167 people from other cities of Liaoning and sent them to Dalian to assist it in the high-intensity sampling work. An 18-member expert team sent by the National Health Commission has also been aiding the city since their arrival in Dalian on July 23.
"We are unfazed by the epidemic since we've accumulated abundant experience in Wuhan, the city hit hard by COVID-19, so with joint efforts, we will win," said Yang Ting, a nurse who is assisting the sampling work. Yang was also one of the 546 medics who were sent to Wuhan months ago to fight against COVID-19.
"It is time for me to fight for my home city," she said.
BREAKING INFECTION CHAIN
Vice Premier Sun Chunlan emphasized resolute efforts to put in place measures for regular epidemic prevention and control to curb the spread of COVID-19 in Dalian, as she visited the city from Monday to Tuesday.
The city has classified the Dalianwan area, where the seafood company is located, as a high-risk zone and four other areas as medium-risk ones. As the first line of defense, closed-off management of the residential community in the high-risk area has been implemented, with all schools, work and production suspended.
From Monday, all employees of the company and their families would undergo nucleic acid tests every three days and serum antibody tests for once during a 14-day quarantine, said Zhao.
The municipal health commission has informed related regional disease control authorities of the seafood company's employees who had left Dalian for business travel before the resurgence of COVID-19 on July 22 in the city and reminded them to test these individuals.
Local residents are also asked to refrain from leaving the city. Those who have to leave have been advised to carry proof of negative nucleic acid test results, conducted within seven days.
The city has also suspended service on 99 bus routes.
POOLING RESOURCES FOR COVID-19 TREATMENT WHILE MAINTAINING BASIC LIFE
The medical resources are adequate at the moment to ensure all COVID-19 patients can receive treatment, according to Zhao.
The city has transformed the Sixth People's Hospital into a designated hospital to receive confirmed and asymptomatic cases, and at present, Dalian has a total of 520 hospital beds for them, said Zhao. Another 860 beds have also been prepared in hospitals across the city.
The supplies and prices of living materials and goods in the city have remained stable. In the closed-off communities, community workers and volunteers have been helping quarantined residents to buy vegetables and other necessities.
In the Xianglujiao subdistrict of Xigang District, a 20-member team has been set up to help quarantined residents in the Gongrencun Community buy vegetables and food.
"It matters most if we could help residents live with ease during quarantine," said Xu Xinyan, a team member. The team made sure that all the sellers they bought vegetables from had negative nucleic acid test results.
SPORTSMANSHIP CHEERING CITY UP
As life for residents of Dalian carries on, they are also bracing for the battle against the epidemic with a high morale since the national soccer event was not disrupted by a new infection flare-up in the city. Under strict epidemic prevention and control regulations, the 2020 season of the Chinese Super League (CSL) kicked off in Dalian on July 25 as the competition venue has been sealed since July 17.
The CSL organizers called an emergency meeting on June 22 and asked the eight competing teams in Dalian to abide by local government regulations. A total of 1,870 people, including players, coaches, and support staff, have been tested with negative results.
The CSL also warned that any person who violates the virus prevention measures could be removed from the league.
Dalian is called "a city of soccer" by locals, and their passion for soccer has bestowed the citizens with spiritual support for generations.
"Though we have to reduce outdoor activities now, we can still enjoy the wonderful soccer game on TV that is going on in our city," said Liu Bo, a Dalian resident. "I believe we can surely overcome the new epidemic outbreak, with bravery and confidence rooted in our sportsmanship."