Lagarde says upcoming ECB strategy review to be thorough, open-minded
2019-12-03 03:43:56 GMT
2019-12-03 11:43:56(Beijing Time)
Xinhua English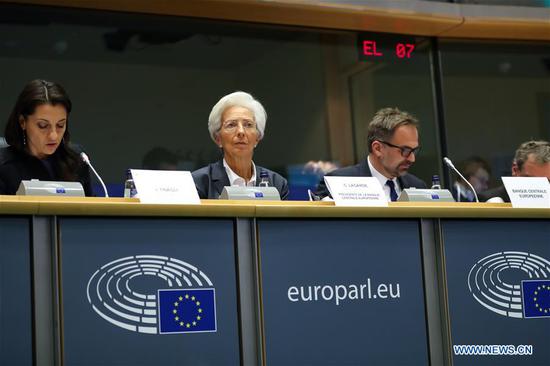 Christine Lagarde (2nd L), President of the European Central Bank (ECB), attends the Monetary Dialogue of the European Parliament's Economic and Monetary Affairs Committee in Brussels, Belgium, Dec. 2, 2019. (Xinhua/Zhang Cheng)
FRANKFURT, Dec. 2 (Xinhua) -- The European Central Bank (ECB) will have a review of its monetary policy strategy in the near future, which will be guided by principles of thorough analysis and an open mind, new ECB President Christine Lagarde said on Monday.
Lagarde, while speaking in her first hearing at the European Parliament since taking office as the ECB chief, said such strategic reviews are relatively common for central banks, noting that the macroeconomic landscape has changed and new challenges have emerged since the ECB's last strategy review in 2003.
She said the review will consider how the ECB's monetary policy can best deliver on the mandate, but did not give details on the scope, direction or timeline of the review.
The policy space to buffer the economy from adverse developments is more limited today than it was prior to the crisis, she said.
Speaking of the current economic situation, Lagarde said euro area growth remains weak, and the world economy outlook remains sluggish and uncertain, but eurozone consumption remains resilient and labor market conditions have continued to improve.
The ECB's accommodative policy stance has been a key driver of domestic demand during the recovery, and that stance remains in place, she said, adding that the ECB will continuously monitor the side effects of its policies.
Lagarde also talked about stablecoins, which refer to digital currency initiatives backed by large technology or financial firms and built on blockchain technology.
She reiterated that innovations, including stablecoins, will only be beneficial if the associated risks are mitigated through effective regulation and oversight.
The ECB is ready to play its part and is already collaborating with other central banks and international authorities, to strike the right balance between supporting innovations and addressing risks, she said.
Lagarde also said that the ECB will continue to actively contribute to a pan-European payment solution and plays its part in assessing the value of central bank digital currencies for European citizens and the broader economy. Enditem